clinical
supervision
Jan offers a safe place to support professional development & psychological well-being
A supportive partner
Jan brings a unique range of skills and knowledge to support her clients in Clinical Supervision.
She has worked as a Psychotherapist, Life Coach, Clinical Supervisor and Workplace Trainer for many years and has studied extensively in the field of Psychotherapy.
Jan offers a free 30 minute consultation call so that you can speak to her, ask any questions and decide if she'd be a good fit, before you book an appointment.
Her gentle approach creates a safe space to explore personal and professional responses to work. She supports as a partner to encourage reflection, self-development and self-care.
Jan offers supervision to a range of 'listening professionals' such Psychotherapists, Clergy, Social Workers, Play Therapist and Art Psychotherapists.
Jan has so many different skills to bring to the table. She is so generous with her knowledge and skills. I feel safe, held and protected. Jan helps me see things clearly and make sense of my own emotions in relation to my client work.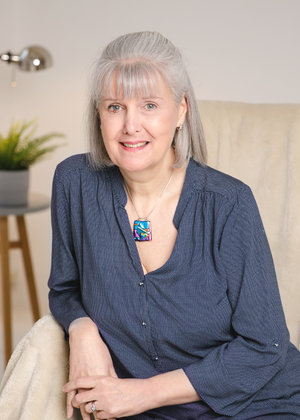 About Jan
Jan Montgomery BSc, PGDip is an accredited Psychotherapist, Life Coach, Clinical Supervisor and Workplace Trainer based in Edinburgh, Scotland.
Jan has extensive experience in supporting other 'listening' professionals through clinical supervision. She is a Certified Supervisor and has continued her professional development and learning in this area.
Jan has in depth experience working with trauma, mindfulness, and play and creative art therapy.
Her areas of specialism include:
Trauma processing

PTSD (post-traumatic stress disorder), Traumatic Stress, EMDR and Flash Technique. Member of EMDR UK and Ireland

Mindfulness Practice, Acceptance and Commitment Therapy

Teaching Member of Mindfulness Association

Creative Art Therapy

Jan is not frightened to challenge me when she feels it is necessary and I really value that. She can see when I am struggling and when I am avoiding but she holds this with great gentleness. I feel really fortunate to have found Jan at this time in my career.
What to expect
Jan's approach is gentle and authentic, supporting clients and working together to encourage professional growth.
Jan works with Counsellors, Psychotherapists, Students and Therapists who are working towards accreditation.
Location
All therapy sessions are delivered via Zoom. Many people prefer to speak from the comfort of their own home, others find Zoom sessions convenient as there is no travel time required.
Times
Times are scheduled to suit each client, in accordance with their governing body. Clinical supervision normally take place monthly in one to one sessions.
Fees
£60 - 85 per session
I'd welcome the opportunity to work together.
Jan
How to get the support that you need
If you would like to find out more about Psychotherapy, Life Coaching, Clinical Supervision or Workplace Training please contact Jan to arrange a 30 minute free consultation.